[ad_1]

Peugeot has announced a new 48V mild-hybrid powertrain that will debut in its 3008 and 5008 family SUV lineups.
The new hybrid system utilises a PureTech petrol engine with a six-speed dual-clutch gearbox, plus a 48V battery that recharges while you drive to provide a total output of 134bhp and 230Nm of torque.
This 48V mild-hybrid set-up replaces the PureTech 130 EAT8 petrol engine, with Peugeot claiming it will help to reduce fuel consumption by up to 15 per cent and allow the possibility of zero-emission driving for short distances at low speeds.
Although the 3008 and 5008 SUVs are the first to include the new hybrid powertrain – deliveries will commence this Summer – and it will feature later on in other models in the French manufacturer's lineup, including the 208 supermini, 2008 compact SUV, 308 hatchback, 308 SW, and the new 408 fastback model. 
Visually, there's nothing to differentiate the new hybridised models from the purely internal-combustion engined versions of the 3008 and 5008, but there will be some changes inside.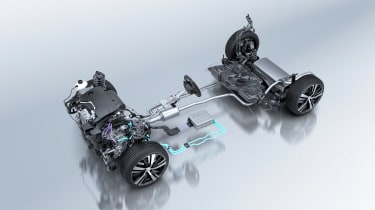 Peugeot's i-Cockpit digital display will show when the car is running on pure-electric power as well as the flow of energy in the system, the battery charge level and its current power output. There's also a display showing the percentage of the distance travelled on pure-electric power. 
The hybrid system won't affect cabin or boot space either as it's stored underneath the front passenger seat. Peugeot says the hybrid 3008 and 5008 will be equipped with an 'Acoustic Vehicle Alerting System' which essentially emits a sound when travelling up to 18mph to warn pedestrians and cyclists.
The new mild-hybrid model sits below the PHEV versions in the 3008 price list, while the 5008 range doesn't include a plug-in option which means the 48V model is priced around £600 cheaper than the top-of-the-range 1.5-litre BlueHDi diesel.
The 308 and 508 face plenty of competition! These are the best hybrid SUVs you can buy…
[ad_2]

Source link