[ad_1]

Of course, there's no GT-division firecracker in the boot, but the 3.8-litre Turbo unit does fizz with induction roar at the top end in a way the Carrera's 3.0-litre motor doesn't. The modest but noticeable turbo lag can in this age also be chalked up as a character-enhancing asset.
Pushing against 1570kg, a peak of 443lb ft (a neutered figure to protect the gearbox) also feels just right on the road: not so much that you're afraid to pin the accelerator in second but enough to rotate the Sport Classic through bends with a little weight transfer on the way in. This engine simply makes you work less hard than the GT3 one and the handling, when you really get stuck into it, is super-forgiving and almost ridiculously malleable.
Less lovable (but only slightly) is the gearbox. The action is well sprung and the overdrive is excellent for touring, but more of an analogue sensation – of linkages shifting – would set things off, because the steering and pedals are very intuitive and engaging (although there's auto-blip, if you want it). As ever with the 911, tyre roar is also considerable, although the Sport Classic is a church compared with the GT3 Touring.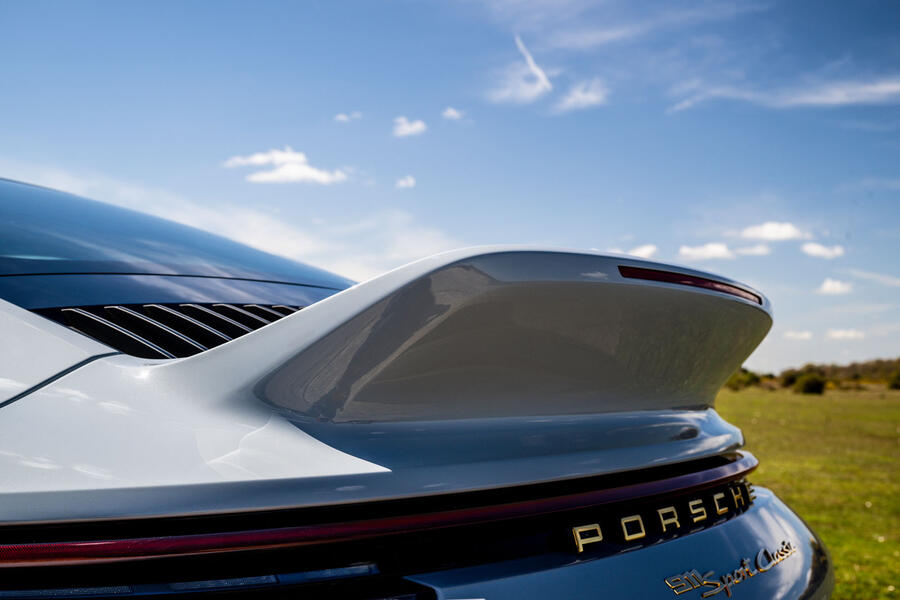 As for the styling, well, it's all there to see. The cartoonishly big Fuchs alloy wheels, the gold lettering, the houndstooth upholstery, the Carrera 2.7 RS-esque ducktail (with a ram-air intake at the base making up for sealing the Turbo's signature arch intakes).
[ad_2]

Source link